Currently we have two buses for the upcoming school year. In preparation for the high demand of seating, we are holding a lottery for bus transportation.  Click HERE to enter bus lottery. 
There are private shuttle companies that also offer transportation to FAST.
Prestige Transportation Services
Optimal Reliability Transportation
General Carpool Questions

I would like to connect with other families to carpool
You can add your name to the carpool database. Once you have added your information, you will have access to contact information for other families who are looking for carpools. If you did not receive the link to the carpool form, please email info@fastk8.org.
Also consider downloading the app, KarpoolClub, by the same company that makes our carpool app, PikmyKid!
During afternoon carpool, cars that are picking up 4 or more students are eligible for a pass to use the FAST Lane. Cars that have this special pass will be allowed to pull into the bus/ shuttle area AFTER THE FULTON COUNTY BUS HAS LEFT and have faster student dismissal.
If you believe you are eligible for a pass for the FAST Lane, contact marie.emerson@fastk8.org with the students' pikmykid numbers.
You may only use the pass on days you are picking up 4 or more students.
In order to improve safety and to allow our staff a small break from daily carpool, we have changed the morning carpool drop off to 1 lane. Drop off begins at 7:10am.
This makes it much safer for the students and faster as no one has to wait for students to cross in front of/ behind cars.
In order to help us keep things running smoothly, please remember these tips!
1. Once you have come to a complete stop in the drop off area, students should immediately open their door, hop out and close the door. Staff are only there to assist students who need help. Any student who can hop out on their own can and should!
2. Once your student is out, pull forward if no one is in front of you.
3. Families who need extra time to unload should park in the visitor/ shuttle area and walk the students to safety on the sidewalk. Any car that parks should then head towards the back of the school to rejoin the flow of traffic exiting the school.
Explain Afternoon Carpool
FAST only has 2 buses provided by Fulton County and is responsible for running a smooth and efficient carpool in order to avoid disrupting traffic on Crabapple Rd.
Please take a look at the map to see how traffic will flow.
If possible, do not arrive on campus before 3:20 (12:00 on Fridays)
Staff will direct you to enter the staging lanes in the order you arrive.
A staff member will go through the staging lanes and enter the cars into the pikmykid system in the order of arrival. (See below for PikMyKid details)
At dismissal, a 3rd staff member will direct cars out of the staging lanes into the pick up area.
Staff will direct cars out of the pick up area. If a student has not arrived, you will be asked to move to the holding area until they arrive.
REMINDER: Please do not arrive before 3:20.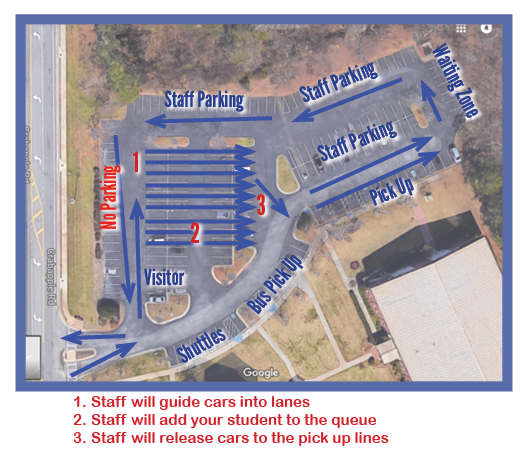 Why am I being asked to turn right out of the school?
PikMyKid
Fulton Academy of Science and Technology uses PikMyKid as our student dismissal app. This applies to all students as we will dismiss students the same way for After School Programs, carpool, bus/ shuttle service and walkers.
Please watch the video below that explains how the PikMyKid app and dismissal process works. The password is pikmykid, all lower case.
Once your account is created, you will be associated with your child or children. If you need assistance or have trouble with the app, please contact PikMyKid support at support@pikmykid.com. Some common questions are below. If you still have questions, feel free to contact our Technology Coordinator, Justin Mercado at justin.mercado@fastk8.org.
PikMyKid is a comprehensive carpool system that allows the school to monitor when a child is ready to be picked up and in what order.
Ideally, this is how it works.
Parents log in to the app (apple, android, windows) and "Announce" they are on campus/ on their way.
(This can only be done less than 30 minutes before the school day ends, also no pickup changes can be made after that time)
Once you arrive on campus, a staff member sees your PikMyKid car tag prominently displayed and confirms you have arrived.
PikMyKid now takes over and shows the staff inside the building who is ready to be picked up and in what order.
Once your child leaves the building, staff confirms that they have been picked up.
For more details, check the other questions below!
What if I don't have a mobile phone with me when I pick up my child?
A staff member in the parking lot will assist you. You will be required to provide the student's PikmyKid ID.
What if my mobile phone does not have good cell coverage in the parking lot?
A staff member in the parking lot will assist you. You will be required to provide the student's PikmyKid ID.
How can I let another parent pick up my child?
Within the app you are able to "delegate" your child to another parent who is registered. The students will then be dismissed together.
What if my child does not come out when they are supposed to?
We will ask that you move to our "hold" area and a staff member will assist in getting
your child out.
What if I don't have my child's carpool number with me when I arrive?
Staff members in the parking lot can look up your number. You will be required to provide ID that matches the contact information in PikMyKid. Any person who does not know the PikMyKid ID and is not on the contact list will be asked to park and go to the front office to verify they have authorization from the student's guardian.
When should I "Announce" that I have arrived to pick up my child?
You are free to "announce" as early as 2:50 pm (12:00 pm on Fridays), on your way to school or once you have arrived. There is no harm in announcing as soon as you are able. FAST staff members will confirm cars in order of arrival.
How do I allow a grandparent or other family member to pick up my child?
Please have them complete a new registration in the pikmykid system. You will then be able to "delegate"
your child to that family member.
My car tag doesn't have my student's teacher name. Why?
If you have a student in grades 4-7, their carpool tag shows which room they are in during pick up.