Spring General Membership Meeting
Tuesday April 14 - 7:00 p.m. 
ONLINE Zoom Meeting 
Don't forget to attend our spring General Membership meeting. We will cover highlights from this year and answer any questions you may have.
PTO Board Nominees for 2020-2021 School Year
Nominations accepted until Thursday, April 2, 2020.  Nominating Committee:
Electronic ballots will be emailed to all PTO members on Wednesday, 4/22.
Basic Booster, Rocket Booster, Cobalt Rocket members will have one vote per family. Gold & Platinum Rocket members will have two votes per family
Nominees for PTO Officers*
Co-President**:  Marie Emerson
Co-President**:  Vijal Bivek
Vice-President:  Gayatri Gadepalli
Treasurer:  Karin Pearson
Secretary: Amy Speilman***
*Officers are elected for a two year term
**There are two Co-President positions
***Serving second of two year term, not open for election
Nominees for PTO Vice Chairs
Academic Enrichment:  Lee Howell
Community Outreach:  Courtney Lee
Events:  Lynda Sharp
Membership/Fundraising:  Nilam Patel
Marketing/Technology:  Archna Agarwal
School Support:  Tammy Coleman
FREQUENTLY ASKED QUESTIONS ABOUT SERVING AS A PTO BOARD MEMBER:
Who can serve? Almost anyone!
Parents, grandparents, teachers, staff, and members of the community who are members of the FAST Family PTO can serve as an officer or board member.
Who are good candidates for PTO officers?  Adults who have a willingness to ...
• Learn what the PTO's purposes and policies are and to follow them.
• Reflect and embrace the diversity of the school community.
• Distribute materials promptly and delegate responsibility.
• Create a climate of support and mutual respect.
• Train and encourage new leaders.
Our Mission
The Parent Teacher Organization's (Fast Family PTO) objective is to enrich the education of FAST students and enhance the efforts of the school staff by promoting relationships and involvement as well as utilizing the talents and resources of our families, teachers, school, and community. FAST Family PTO does this through projects such as helping to offset the cost of classroom supplies, teacher luncheons and family fun outings.
WHY JOIN THE PTO?
Parent involvement is the number one predictor of early literacy success.
Kids with involved parents do better in school and score higher and tests.
Kids with involved parents are more likely to pursue higher education.
FAST Family PTO supports the school through staff appreciation events, teacher grants, community outreach, clinic supplies, student council events, family events and school support events (including field day, Dr.Seuss Week and Red Ribbon week)
Become a member of the FAST Family PTO today!
PTO Membership
For the last three years, FAST Family PTO has had tremendous success combining our annual membership drive with a simple check writing campaign. This event replaces all other fundraising sales (i.e. wrapping paper, candles) that usually take place throughout the school year and the easy, one-time donation is even tax deductible!
Your donation directly funds the PTO sponsored programs that benefit our students, staff & school!
Please consider this when selecting your level below.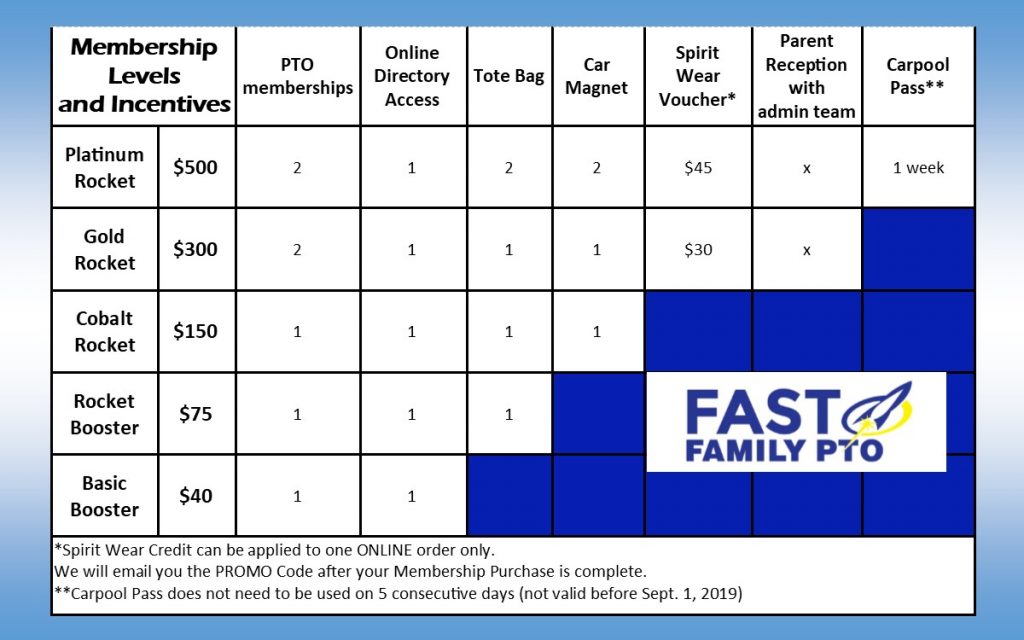 Business Partners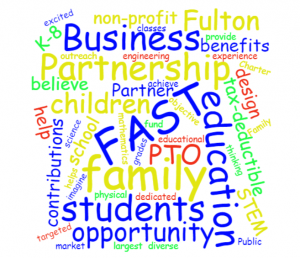 We believe the educational experience of our students can be enriched through the involvement of our business community. To achieve this partnership, we offer a number of opportunities for businesses to partner with FAST by contributing financial or other resources in return for targeted marketing outreach to more than 600 students, staff, and families throughout Fulton County. Marketing opportunities vary by contribution level but include having your business name/log on our Fall Festival shirts, having flyers sent home during the school year, business name/logo on commemorative sign on campus, recognition on FAST Family PTO website and Online Directory, acknowledgement in special Business Partner eblast and more! Find details here in our information flyer.
The FAST Family PTO is a non-profit organization and contributions are fully tax-deductible.
PTO Officers (2019/2020)
For the complete organizational chart, please click here.
Mandatory Training Instructions
Click here to take the online training course required of all volunteers before they can volunteer in the school.
PTO Board Meetings
Thurs, April 2, 2020  7:45 a.m.
General Membership Meeting: Tuesday, April 14 at 7:00 pm (via Zoom)
Thurs. May 14, 2020 7:45 a.m.