ASPire Extended Care
ASPire Extended Care 2017- 2018 School Year
Are you a parent in need of full-time, part-time, or occasional after-school care for your child attending FAST?
Look no further! FAST offers ASPire After-School Extended Care right here at FAST  beginning the first day of school, August 7, 2017.  Simply complete the registration document below for each child you are enrolling, click submit, then contact the ASPire director, Julie Edwards, to pay the registration fee and secure a spot.
What does ASPire offer you and your child?
Students come directly to ASPire upon dismissal and are provided snacks (including healthy and organic items), followed by homework help from experienced elementary through high school teachers and staff.  Students have access to books at their reading levels, a structured fitness period led by a certified personal trainer & sports coach, and fun educational games. ASPire offers students a safe and secure environment supervised by impassioned personnel who are certified in First-Aid/CPR/AED, with an AED on site. Teachers are trained for emergencies and perform school-procedure drills with our students. Individuals picking up children from ASPire must be listed on the registration form and are entered into the computer check-out system. The front door is monitored from dismissal through 6:30 pm, and unknown individuals are identified and verified prior to being admitted into the building.
Sample schedule for students enrolled in ASPire
Students go directly from their classroom to ASPire upon dismissal. Students who are enrolled in an after-school club go directly to the club's location upon dismissal, and then to ASPire.The ASPire calendar follows the FAST school calendar, and Students must be picked up no later than 6:30 pm daily, or a late fee of $1 per minute is charged thereafter. Students who go to a Club first, come in at 4:30 pm, and go outdoors. They have an opportunity to complete homework from 5:15-6:30 pm.
3:20 - 3:30 Arrival at ASPire following FAST dismissal
3:30 - 3:45 Snack
3:45 - 4:30 Homework Support or Silent Reading
4:30 - 5:15 Outdoor Group Fitness Activities (weather permitting)
5:15 - 6:00 Educational Games or Additional Homework Support
6:00 - 6:30 Free Choice, Games, Reading
ASPire tuition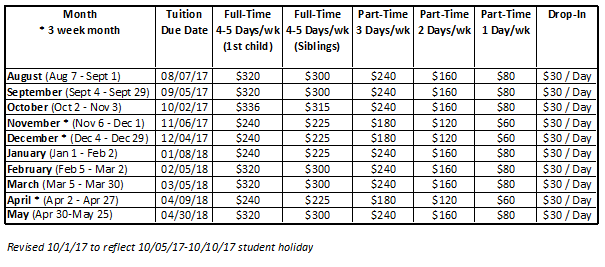 Tuition is paid monthly in advance of services rendered, and is due on or before the first Monday of each month.  Payments made after the due date will be assessed a $25 late fee. A tuition discount is provided for families enrolling more than one child, and the discounted rate is applied to the second child and subsequent children.
Enrollment
Enrollment for the 2017-2018 school year is now open.  While we accept enrollment applications beyond the first day of school, space is limited by the number of after-school teachers and state student:teacher ratios.  Enrollments will be accepted based on registration receipt date, so please register early.  We will enroll full-time students first, part-time students next, and drop-in services based on availability.  A non-refundable annual registration fee of $50 per child is required for enrollment by June 30, 2017 and $75 on or after July 1, 2017. If your child was enrolled in full-time or part-time extended care during the 2016-2017 school year, your parent portal account will remain open, and you will be able to pay your 2017-2018 registration fee and tuition online, once your enrollment documents are received.  
If you are new to ASPire extended care please contact Julie Edwards at 678-977-6303 to pay your registration fee by phone.