It's not too early to start shopping for school supplies!
FAST PTO has partnered with EPI to help save you time and money when back-to-school shopping. Parents that use EPI school packs save up to 40% compared to the same supplies from a national retailer.
But hurry!!  Online sales of school supplies from EPI end on June 16th!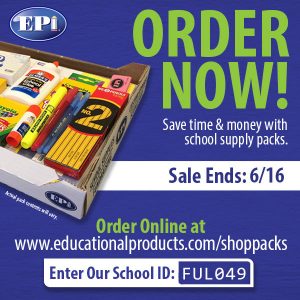 To order online:
Go to: educationalproducts.com/shoppacks
Enter our school code: FUL049
Supplies will be delivered to your HOME before school starts.
Plus, each order helps support the FAST Family PTO!
Click on any link below to see the school supplies list for that grade: