Extended Care Program
Are you a parent in need of after-school care for your child attending FAST?
Look no further! FAST offers Extended Care beginning the first day of school, Aug. 9, 2022.   Extended Care is part of FAST and is staffed by FAST employees.  Our after-school staff is beginning their 2rd to 7th year of employment with FAST.  
What sets FAST Extended Care apart from other after-school programs?
All Extended Care teachers are educated and experienced with elementary and middle school students and provide academic support during the designated homework period. Teachers are trained to assist students with Singapore Math, as well as all other subjects. Younger students provide their teacher with their homework folder, while older students sign a daily homework log recording their homework assignments and completion time. All teachers are first aid/CPR/AED certified and have access to an AED onsite. We encourage proper physical education and social skills in a fun and safe environment and our teachers engage with our students, by playing games and doing STEAM activities. One teacher remains indoors during recess for additional homework time/assistance, for students with seasonal allergies, or for those that need a break from the weather. 
We follow the same FAST emergency procedures that your child is familiar with during the day.
What is a typical afternoon in FAST Extended Care?
Extended Care is held in the upstairs classrooms of FAST's Student Hall, which remains locked and attended by the Director at all times.  Students go directly to extended care following dismissal –no need to leave the building. Our staff waits outside the classroom to receive your child. Students drop off their belongings in the room, wash their hands, and return to sanitized tables for snack time.  Students are offered a choice of snacks, fruit, and a drink (including peanut-free, healthy, organic, and kosher options).  Following snack time, students begin homework and are provided chromebooks as needed.  As students finish their homework they go outdoors for organized activities or free time.  Following outdoor activities, students return to their classrooms for games, friendly competitions, reading, free time, socializing with friends, or additional homework time.  Many students ask their parents to pick them up later in the afternoon, because of all the fun they have with us!
Full-Time Extended Care Tuition* and Payment Due Dates: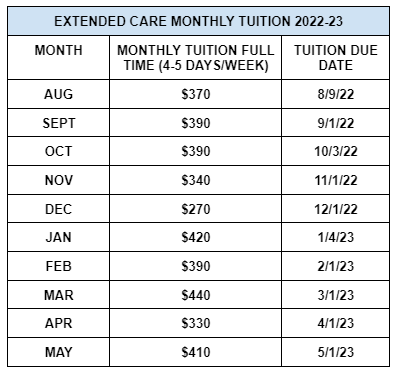 Students not enrolled in full-time Extended Care (4-5 days per week) may "Drop-In" on a part-time basis (1-3 days per week) or on occasion when after-school child care is needed. Drop-In services are billed in three-hour increments due to the cost and schedule of after-school staff and mandated state ratios. Payment is due on the day of service at time of pick up.
A late pick up fee of $1 per minute is charged after pick up time. We accept credit/debit cards, checks, money orders, cash, and Georgia CAPS. The process for scheduling your child for Drop-In services is to email your child's FAST homeroom teacher and cc: tatiane.smith@fastk8.org informing them that your child needs to go to Extended Care on a given day (preferable by noon if on the day of). Your child will be sent to Extended Care rather than carpool during dismissal.
If you have any questions, please email Tatiane Smith, Coordinator of FAST After-School Programs, at email tatiane.smith@fastk8.org.
To Register, please click here:
CLICK HERE TO REGISTER FOR EXTENDED CARE
Still have questions?
If you have any questions, please email or call the director of the after-school program below.
Tatiane Smith, Coordinator of FAST After-School Programs
Fulton Academy of Science and Technology
11365 Crabapple Road, Roswell, GA 30075
Email: tatiane.smith@fastk8.org