Ashley Stinger, Ed. S
FAST Interim Principal
Ashley Stinger earned a B.S. in Elementary Education from the College of Saint Rose, a M.S. in Literacy from The University of Albany, and an Ed.S in Early Childhood Education from Georgia State University.  She has taught kindergarten and first grade, having experience in both public and private settings.  For the past 6 years, Mrs. Stinger worked as a Curriculum Coordinator in Roswell, Georgia.  Prior to accepting the role of Interim Principal, Mrs. Stinger had been the Assistant Principal of grades K-4 at FAST since July 2017.
Mrs. Stinger has 8 years of experience attending institutes at Teachers College at Columbia University, studying Lucy Calkin's Units of Study in Reading and Writing.  She implemented the workshop model at her previous institution, and she is excited to see it begin here at the Fulton Academy of Science and Technology.  Mrs. Stinger also has extensive experience with Singapore Math and  Math in Focus curriculum.  She coaches educators and leads professional development on the successful integration and implementation of Singapore Math.
Mrs. Stinger is married with two daughters and is a FAST parent.
Mr. Peter Epstein  
FAST Assistant Principal (5 – 8)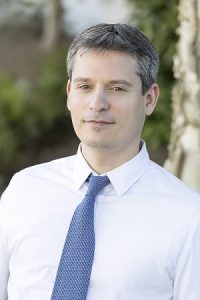 Mr. Peter Epstein has been working in the field of education for over 12 years. He holds a Bachelors in Russian Studies and a Masters Degree in the Art of Teaching from Emory University in Atlanta. He has also completed an Educational Leadership Program at Kennesaw State University focused on building learning communities and leading schools to higher levels of achievement.
Throughout his career, Peter has held teaching and leadership positions in private, public, and charter schools. After completing his Educational Leadership Program, he took a position as Education Manager at New American Pathways, one of the largest refugee resettlement agencies in Georgia. In this capacity, Peter worked with students who recently arrived in the U.S. from all over the world. A highlight of this period was becoming the recipient of a competitive Dollar General Literacy Award in Washington D.C in March of  2015. Mr. Epstein's program was chosen from over 300 Youth Literacy programs nationally for its focus and impact on students' literacy skills.
Most recently, Mr. Epstein served as the Principal of a K-8 Private School in Atlanta. During his time there, he set the school's vision, increased enrollment, implemented a project-based curriculum model, brought in new instructional technology, raised funds for a state of the art Science Lab (completed in April of 2018), and successfully completed the school's accreditation process with the highest quality rating.
Peter has traveled extensively around the world and has visited many countries. His hobbies include hiking, swimming, traveling, and outdoor activities. When Peter is not working, he relishes spending time with his wife and daughter. He is excited to be a part of the leadership team at FAST and helping the school's continued growth and development.
Mr. Ron Rhodes
Chief Business Officer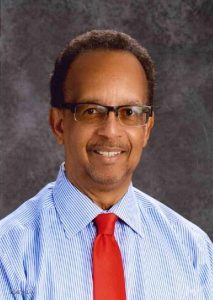 Ron Rhodes is an experienced accountant with over 25 years of experience outside of education and 7 years of  experience in the Atlanta area charter school system. A native of South Carolina, Ron is a graduate of South Carolina State University.  Ron has been with FAST since we opened our doors to students in 2016.
Ron is an avid sports fan and  loves all sports. In his free time Ron loves to play tennis, travel in  groups, and is a member of his church's men's choir, Brotherhood of Praise.  Ron is married with two children and lives in Marietta.




Mrs. Rebecca Abramson
Dean of Students
Rebecca Abramson has been an advocate for innovative, cross-curricular education for over 15 years. She joins our administrative team from within the FAST family. Mrs. Abramson served as 5th Grade Team Lead, a member of the school's Design Thinking Team, taught 4th, 5th, and Accelerated 6th Grade Singapore Mathematics, and mentored new teachers to help promote positive classroom management, organization, and effective STEM-based lesson planning.
Prior to joining the FAST family, she obtained a B.A. in Sociology from the University of California, Riverside. After working nearly a decade in accounting, she earned her M.Ed. in Cross-Cultural Teaching. She has participated in educational leadership cohorts and innovative STEAM-based lesson design at Cal Poly San Luis Obispo and UCLA. She has held a combination of Elementary, ESOL, and Mathematics teaching credentials in California, Kentucky, Florida, and Georgia.
Mrs. Abramson's passion for progressive, creative education has been evident throughout her career. She taught mathematics to all levels, kindergarten through twelfth grade, and successfully served for multiple years as the Language Arts Department Chair for a National Blue Ribbon School in Kentucky. She also served as an Elementary ESOL Resource Teacher for African refugees representing 7 countries and 9 languages. Additionally, as a member of the school SBDM leadership committee, she collaborated with administration, teachers, and the PTO to write and implement a highly successful PBIS program.
When Mrs. Abramson is not at school, she enjoys spending time with family and friends and giving back to the community. She has been involved in animal therapy work for the past 10 years. She loves spending time with and training her puppy, Sadie. She can also be found playing tennis, trivia, riding horses, or attending concerts from nearly every musical genre with her husband, Scott.
Mr. Mark Gerl
FAST Innovation Director
Mark Gerl is a fourth generation teacher, following his mother, grandmother and great grandmother in school work. For eight years, he was a Systems Administrator, earning a commendation as one of the International Top 20 "SysAdmin of the Year" for 2009 from BigFix.com and the Large Installation System Administrators Association.  Mr. Gerl then followed his passion for education and moved into a classroom setting at the Galloway School as a K-4 Technology Coordinator. During this time his project-based, hands-on learning environment was featured in the book "Loving Learning" by Tom Little and Katherine Ellison.
Mr. Gerl moved into an Instructional Design Specialist role, while also teaching Middle School and High School Engineering and Technology classes. In this role Mr. Gerl developed classes that were named as a Top Five STEM program for 2015-2016 from Technology Association of Georgia has served as a PBS Digital Media Educational Innovator for the State of Georgia.  Now at FAST, Mr. Gerl was part of a panel that presented at ISTE 2018 on "AI Goes to School: Artificial Intelligence in K-12 Education" and was highlighted as an example of "Empowering Leadership" in the recently published ISTE Standards for School Leaders.
In his spare time Mr. Gerl enjoys flying paper airplanes, kites and model rockets.  He lives in Woodstock with his wife and 2 sons and is on a never- ending quest to brew the perfect cup of coffee.  His favorite book is "The Phantom Tollbooth" by Norton Juster.
Mrs. Brittany Brookshire 
Counselor
Brittany Brookshire is the FAST school counselor.  Mrs. Brookshire has a B.S. in Psychology from Georgia State University,  and a M.Ed in Professional School Counseling from the University of Georgia.  She is state and nationally certified; recognized by both the state of Georgia as well as the National Board of Certified Counselors. Mrs. Brookshire began working with children 8 years ago.  In addition to working in an educational  setting, Mrs. Brookshire spent many years working closely with occupational, speech, and physical therapists in a clinical setting. These experiences provided her with invaluable insight into child development and education.
 Mrs. Brookshire enjoys creating programs for use with individual students, small groups, and classrooms, and she hopes to implement a number of interventions here at FAST.  She hopes to continue educating students about topics she feels strongly about such as empathy, emotional well-being, technology safety, friendship, standing up to bullying, career exploration, and much more.  She is passionate about advocating for her students and hopes her office will be a safe place for all!
In her free time, Mrs. Brookshire enjoys traveling, reading, and spending time with her friends, family, and her husband, Cody.  She also thoroughly enjoys her wonderful pets, "Snug" the dog, Lexi the cat, and Beau the horse!